---
l FUNCTION:Themeatwillbemassaged,threshedandheldbyrotatingpaddleunderforcedcirculationandbeprocessedundervacuumandnaturalpressureconditionalternatelyandthatwillacceleratethebrineinfiltrationandthediss
---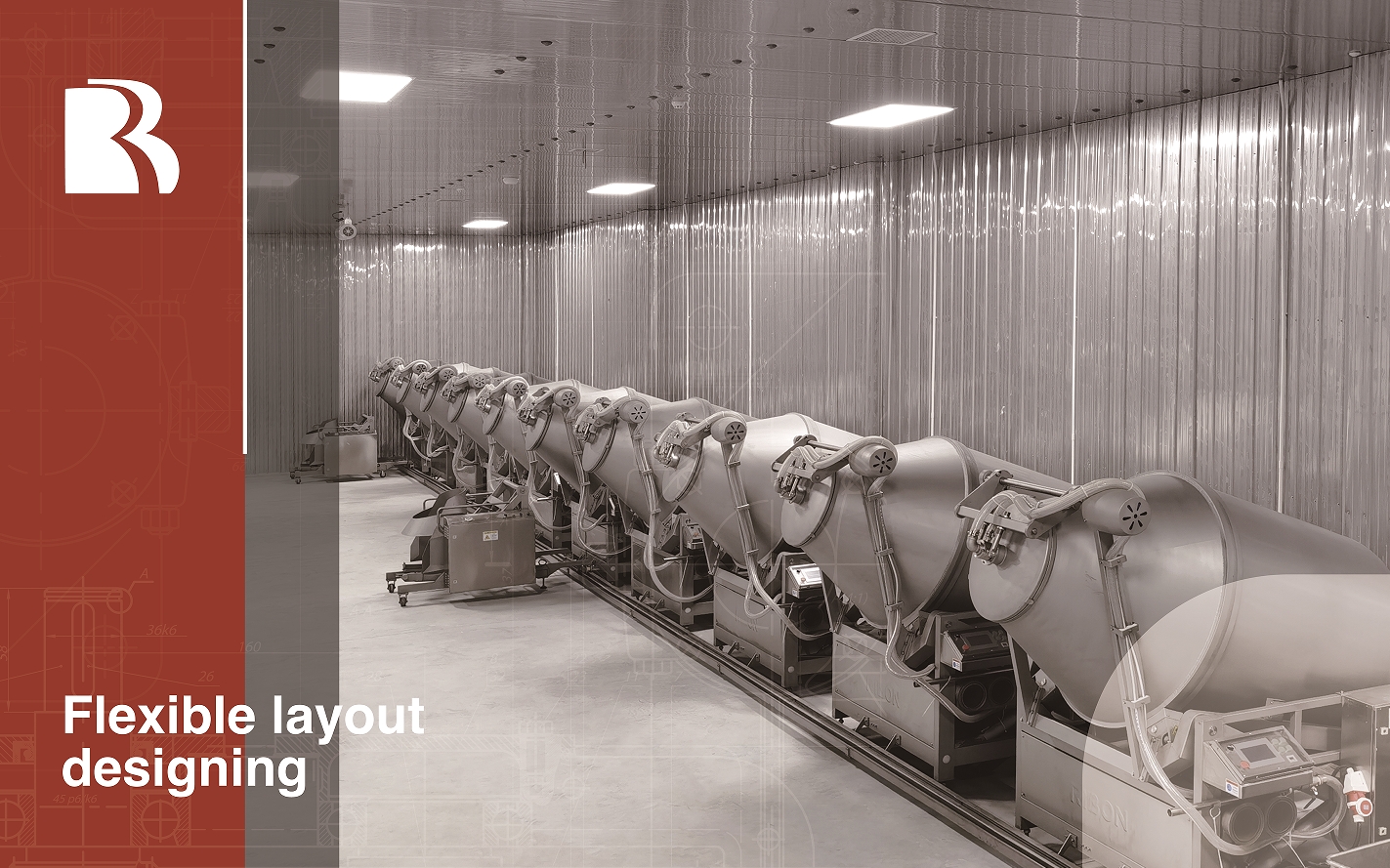 l FUNCTION:
The meat will be massaged, threshed and held by rotating paddle under forced circulation and be processed under vacuum and natural pressure condition alternately and that will accelerate the brine infiltration and the dissolving and extraction of parapeptone. By this method, the product ratio will be improved and cooking loss reduced. And it has the cooling function, which can decrease the temperature of the rotating meat.
l ADDTIVE OPTIONS:
Cooling carrier, Cooling jacket
Automatic loading device, rail-guide loading device for multiple use
Manual or Automatic opening lid
Blade-shape or V-shape carrier for different products
l CAPACITY:
1700L, 2500L, 3500L
l CHARACTERISTICS:
1.  Continuous vacuum function-vacuum rotation, breath rotation and atmosphere -pressure rotation.
2.  The vacuum can be read from the vacuum gauge.
3.  The Breath rotation has the advantage to shorten the rotation time and improve the production efficiency.
4.  The vacuum gauge makes it simple to control the vacuum condition.
5.  Speed can be adjusted from 2 to 12 rpm by the frequency transducer. Possible to choose the optimized production process to improve the efficiency.
6.  Save the energy cost
7.  Start stably to prevent the impact on the machine and prolong the machine' life.
8.  Different rotation speeds adjusted for special products such as poultry and fish.
9.  Perfect auto loading device and discharging
10.  Hydraulic lift and reverse rotation to discharge.
11.  Adopt OMRON PLC and Proface touch screen.
12.  The reliable control system and the touch screen fully optimize the easy operation, direct supervision. This machine is with the waterproof and moisture-proof characteristic.
13.  The cycle: obverse cycle-pause-reverse cycle-pause…
14.  Flexible rotation mode. The process is composed of 6 processes, every process has 2 steps. Every step can be set with different time, speed, vacuum, and rotation direction for different process demands.
15.  High sanitation design.
16.  The whole machine is made of high quality SUS304.
17.  The drum is polished carefully inside, no dead corner.
18.  The water can be drained fully at the discharging position.
19.  Adopt water-sealing vacuum pump, the vacuum filter is equipped on the vacuum tubes, and high quality vacuum detector is adopted to ensure the vacuum reliability.
20.  The gear motor is directly connected to reduce the noise and improve the driving efficiency.
*More technical information, please don't hesitate to contact us immediately.